Make all management more efficient with our
Free Call Center Quality Assurance Software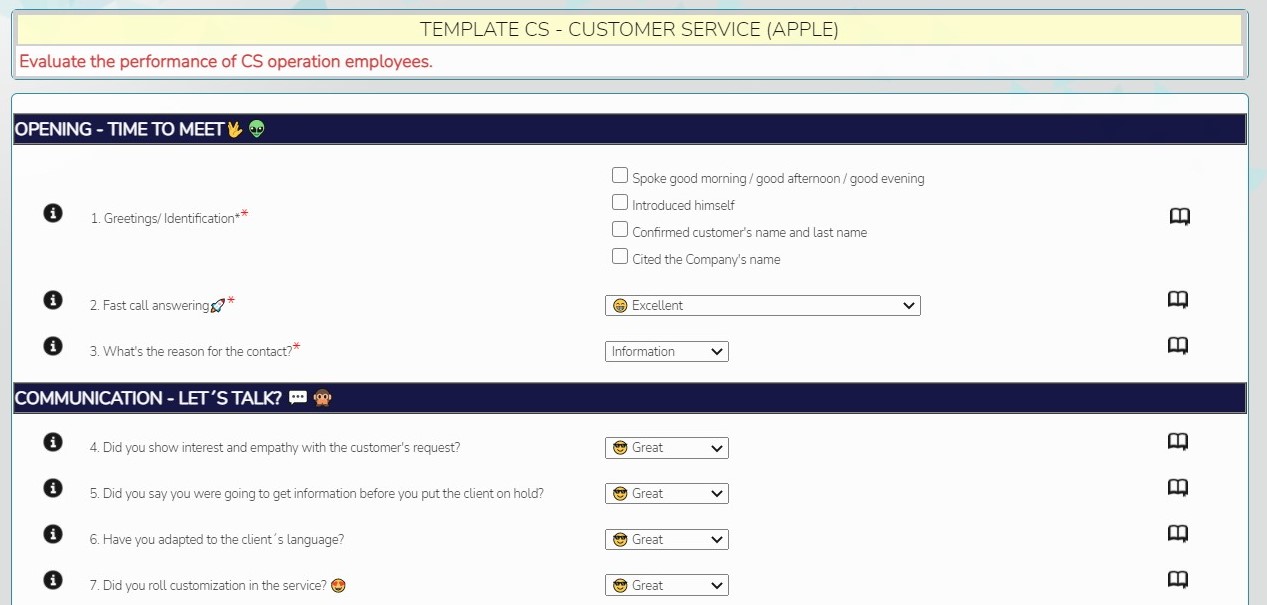 What is a Call center Quality Assurance Software?
The Call Center Quality Assurance Software is used to evaluate interactions between a customer and an agent in call centers.
With this software, you create one or several QA scorecards and will start to evaluate the customer service with those scorecards you created, thus generating a quality score for the agent and his observations about the service. This note, along with your observations and a final comment with actions and/or recommendations, is called feedback.

Creating quality assurance scorecards shouldn't be a hard task.

Electronic feedback sent automatically when you finish your evaluation.

Reports need to work for you, don't spend your time working for them.

Stop creating contacts manually on your QA software, leave this task with our integrations.

Not always just read a chat dialogue or listen to a call recording is enough to know what happened in a customer interaction. Record the agent's screen and discover precious information.

Stealth screen monitoring
with recording built-in
See in live the agent's screen when you want, with screen recording on-demand built in.

Stop evaluating by sample, evaluate by facts found in the calls and chats.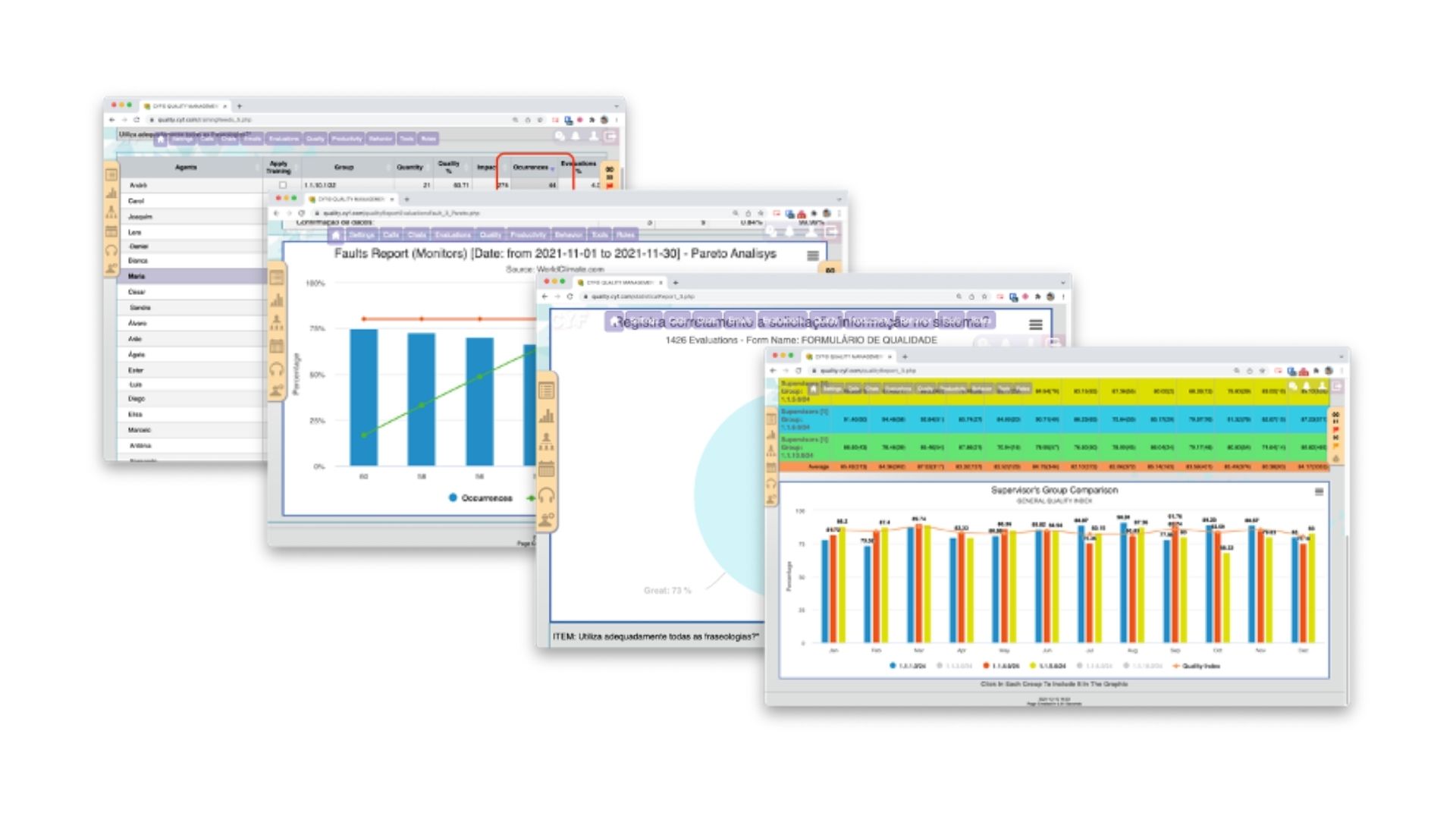 Reports in the palm of your hand
A bunch of reports available for your need.
The electronic feedback goes beyond
We have developed 3 ways to apply the feedback electronically to help you make sure the coaching is doing properly:
1. The agents can sign feedback (and contest if you enable it) on their own.
2. If the supervisors are required to apply the feedback to the agents, they can do it on CYF Quality as well, but with one extra step… The agents need to give to them a feedback passcode.
3. if you want to merge these 2 feedback ways, you can set up a quality passing score. 
PS: You can track the feedbacks pending to be viewed, replied and signed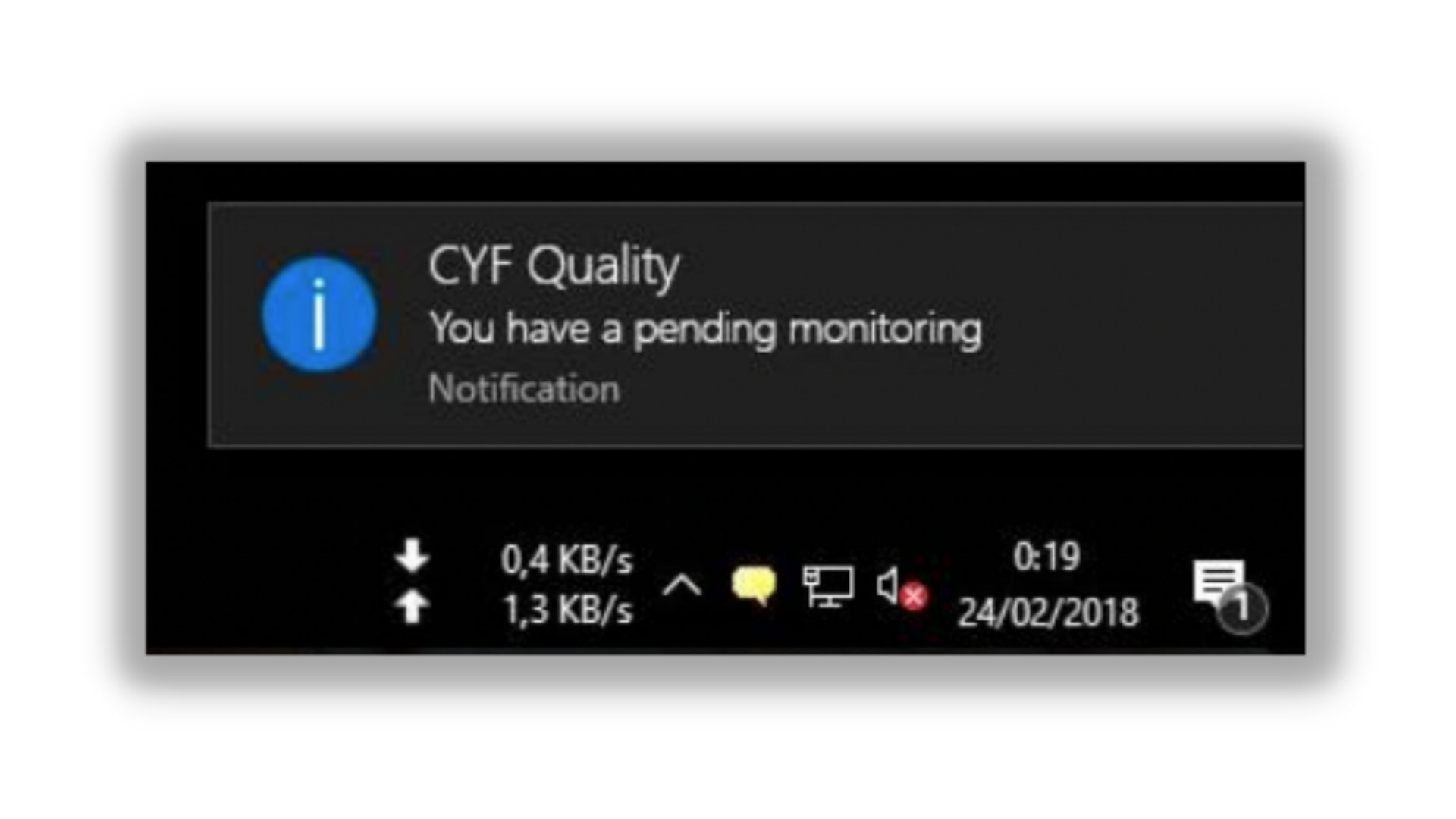 If you want to go further, just automate manual process by integrating CYF Quality with:
Get started now using CYF Quality
Pricing for a minimum of 25 users
Users are people who make evaluations (generally monitors and supervisors) and who are evaluated (agents) in CYF Quality.
Attach files to the evaluations

Secret view of the agents' screen ⓘ
Screen and/or voice recording of contacts ⓘ
Full-time recording of the agents' screen ⓘ
Up to 100 evaluations per month ⓘ

by ticket, email and chat
For agents working locally
by ticket, e-mail, chat and telephone
For agents working locally and from home

Learn more about our latest news
We have enhanced the process of creating and editing monitoring forms, making […]
See all our news